Melissa's Comments
Elomi swim is great- hands down the best for customizable swimwear to fit YOUR body and shape. Because of the separate pieces, you can choose the fit that you want for the tankini, the bottom, and the top!
If you want this tankini top to fit looser, just go up a size. Elomi swim bras are designed to be paired with Elomi tankinis and one-pieces. They are made for each other so there's no need to worry about the straps showing or the swim bra peeking out. Because you're getting your swim bra in the actual bra size that you need and it is separate from the outer tankini, you can change the size of the outer "shell" without it affecting the support from your bra. So let's say you have a small ribcage/back and need a 34 band swim bra, BUT you have a fuller tummy and don't want a suctioned fit on the waist. You can get the swim bra size you need to support and fit your bust perfectly, and get the tankini dress size that suits your fit preference on the waist because the pieces are separate. You get to fit YOUR shape. This is why SO many women love Elomi swimwear! (PS- Any color Elomi swim bra can be worn with this tankini since it won't show. We suggest getting the matching one so you can have a bikini set too if you are feeling a little daring.)
Elomi Aloha Molded Tankini Adjustable Neckline #ES7151 is stylish and comfortable in this Hawaiian inspired tropical print. Fully adjustable straps and adjustable gathered center bust makes this tropical full figure swim tank a must-have since you can set your neckline to your desired plunge (or not)! With symmetrical darts down the front of the suit, smoothing tummy liner, flexible foam cups in the bust, and A-line cut with slight flare, your curves are covered in style and flattered all the way down! This swim suit can be worn over an Elomi swim bra/bikini for additional shaping and support (swim bra not included).
Lightly padded, wireless contour cups stitched into the bust for smooth and rounded look
V-neck styling adjustable plunge center for the perfect neckline
Front panel lined for tummy camouflage
Lycra Beauty knit with Xtra Life Lyrca fabric dries quickly and feels light for all-day comfort
Fully adjustable straps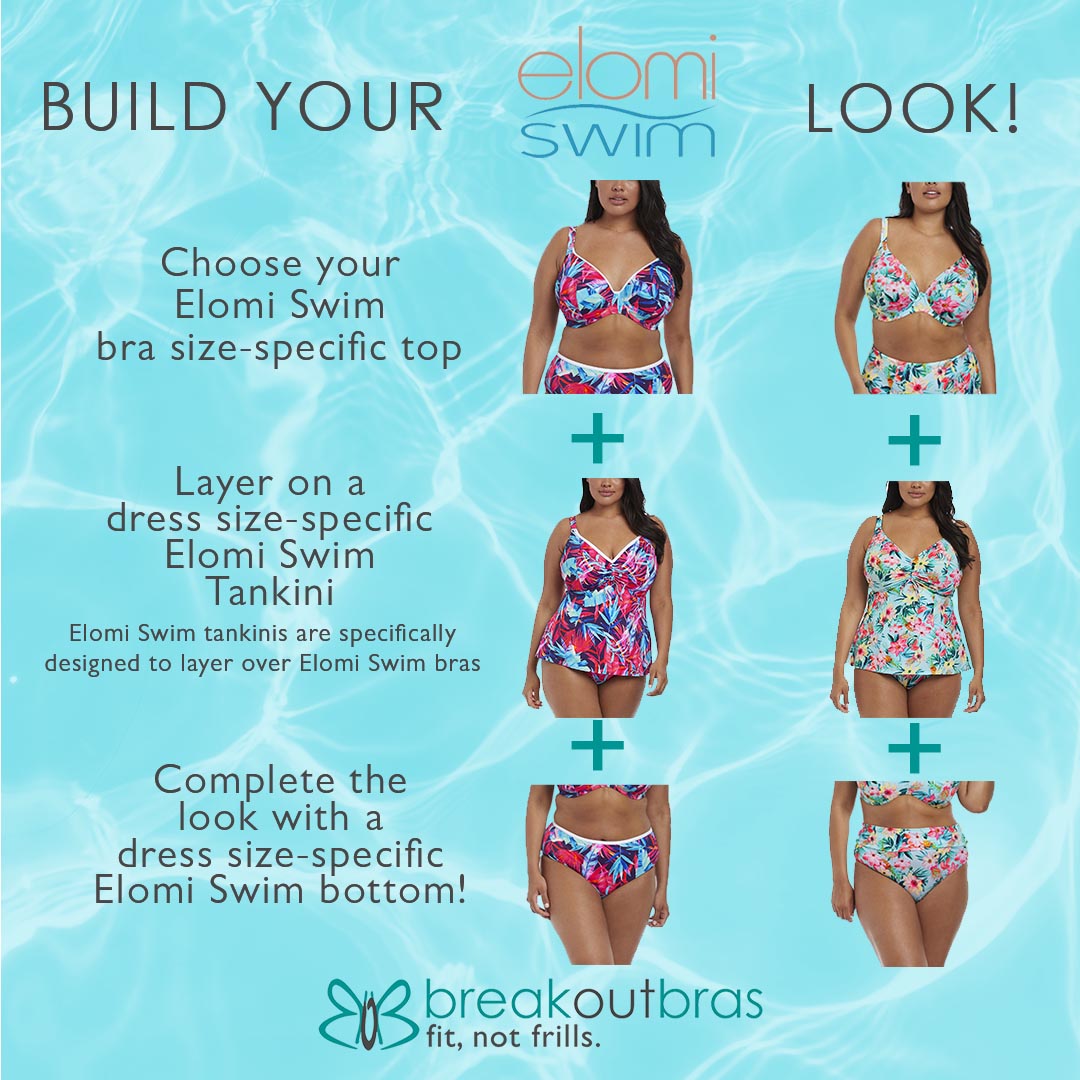 Material Content: 82% Nylon/Polyamide, 18% Elastane
Manufacturer Recommended Washing Instructions: Rinse immediately after use in cold water. Hand wash with mild detergent. Do NOT machine wash, use fabric conditioner, wring, soak, bleach, tumble dry, iron, or dry clean. Not recommended in jacuzzi or sauna.
Breakout Bras Recommended Washing Instructions: Hand wash and drip dry! After each swim, spray out your suit with cool water to keep any chemicals or salts from setting into the suit. It will stay pretty longer!