Melissa's Comments
This has the firmness of the "Original" but the slightly longer length of the "Bamboo," and it's stylish enough to wear over your clothes!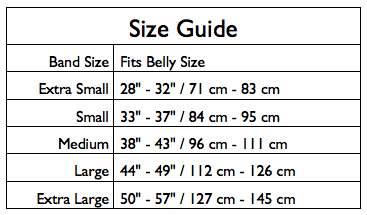 The Belly Bandit Couture Black Lace Postpartum Belly Wrap #BBK helps to decrease water retention, reduce swelling in your uterus, and support your back and legs. There is an additional bonus for nursing mothers: it will help with your posture during feedings. This beautiful belly wrap will get you on the right track back to your pre-pregnancy body.
Available from XS to XL
Look slimmer instantly
Helps minimize stretch marks
Supports back, leg and core muscles
Material Content: 95% Cotton, 5% Spandex

Manufacturer Recommended Washing Instructions: Hand wash in cold water. Do not bleach. Rinse thoroughly. Lay flat and allow to air dry. DO NOT twist or wring. Please note the Belly Bandit may take up to 12 hours to dry.
Breakout Bras Recommended Washing Instructions: Same as manufacturer.