Melissa's Comments
This fits like the Bamboo Belly Bandit, but it's slightly more rigid and just a pinch shorter. The cotton is 95% organic, so it works well for women who are very sensitive to other fabrics.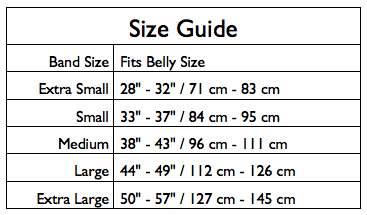 The Belly Bandit Original Postpartum Belly Wrap compresses your abdomen to help get your body back into its pre-childbirth shape. This supportive wrap helps to decrease water retention, reduce swelling in your uterus, and give support to your back and legs. There is an additional bonus for nursing mothers: it will help with your posture during feedings! The Belly Bandits smooth, lightweight construction is specifically designed to be worn comfortably under all your clothes and was made without any tags to irritate your skin. This basic uncovered version is the one that started the abdominal binding craze! The Original is simple, effective, economical and altogether cute!
HELPFUL HINTS FOR SIZING THE BELLY BANDIT
Due to the tremendous variations in the size and shape of womens bodies, it may be challenging to size yourself for a Belly Bandit, but getting the right size is essential for comfort and effectiveness.
If you are buying one early in your pregnancy, it is usually best to go up 1-2 band sizes from your pre-pregnancy belly size.
By the eighth month, many women will be at the same size as they will be post-birth. Just measure the width of your belly by going around the largest area. Choose the band made for this measurement.
If you are near your due date, just subtract 3-5 inches from your belly measurement. Select the band for that size.
If you are buying your Belly Bandit after you give birth, simply choose the band that corresponds to your current measurement.
The Belly Bandit is made to adjust up to five inches so it can stay tight as your belly shrinks.
Material Content: 79% Nylon, 21% Spandex

Manufacturer Recommended Washing Instructions: Hand wash in cold water. Do not bleach. Rinse thoroughly. Lay flat and allow to air dry. DO NOT twist or wring. Please note the Belly Bandit may take up to 12 hours to dry.
Breakout Bras Recommended Washing Instructions: Same as manufacturer.